Browsing Category: "Pets and Home"
Monina has five new kitties as what I have mentioned on my previous post, four of them are male and only one female and among the five kitties there is one kitty I liked the most, the only black kitten. I called him "blackie" but knowing my family they might named give him a Korean name again.
Blackie is the smallest and frailest among the five kitten but he is the cutest.  He loves to go inside our house and follows Jinja, hopefully he won't be trained by Jinja on how to steal food (lol).
Well, long time no update over here. I got sick with chikungunya virus since there was an outbreak in our compound. We have  a new puppy at home, my family named him "Sunjae" no matter how I disagree of naming our pets with Korean names I can't seems to win with them. We got Sunjae from a distant relative, initially we are told the puppy is still lactating and it isn't eating yet but my sister insisted of taking him home, planning to use baby formula on the puppy.
At home Jinjoo didn't like the sight of the new puppy, she hates the puppy who keeps following her and trying to nurse at her. We just let them familiarize at each other and in the morning when we wake up they already get along, Jinjoo adopted the puppy and she nursed him like her own pup.
Sunjae is a very smart puppy, when you tell him no or hit him once he won't repeat the same thing again. When feeding our pets he usually climb at my leg so I hit him lightly once and since then he didn't do it again and just excitedly run and cry when I start feeding them. What's funny about him, he don't like taking a bath, he cries and whimper every time I pour water on him.
Adopting homeless and abandon cats from the street was already normal for me, for us. No matter how many times we promised and told ourselves not to pick homeless kittens again, we always brought home a new set of kittens from the street because we can't just simply ignore them, their scared little meow looking for someone who will give them warm, food and shelter right that moment.
Today, we have fourteen cats at home, including Monina's five little kittens. There should be more than this number if only all the kittens we picked from the street survive, but since maybe they were too little, still nursing and already sickly when we got them, they didn't able to live a healthy life no matter how I feed and cared for them.
Sanghwa: My gosh we are getting crowded…
Like most pet owners, our cats were like a family member to us. They don't eat spoiled food, they have their own food at home. My family often teased me that I spend too much on my little kids, they dubbed them as my kids because they tend to follow me around like little kids to their mamma's whenever I went out the house to go to the store or even simply going outside to throw some garbage they will be tailing me.
Jeong Woo: Cheer up Ryanne your dark circles will never go away, stop eating salty food look how your face is swollen today, wanna know my secret how to get whiter skin?
Every moment with them is memorable because just like dogs, they can vibrate and feel when you are happy or sad. They knew when to cheer you up, they can make you laugh with their playful antics and nature, they know how to amaze you by by twisting their body like a gymnast.
Dongsu: I'm sad too. Our pretty neighbor (cat) rejected me last night.
Most of the time they knew when to give you hug and warmth when they sleep beside you, and most importantly, they knew as well when to create steam in the top of your head by turning things upside down inside the house or eating your food on the table.
Dongsu: Hmm… what about me?
When you have cats you can't eat chips alone because they go crazy at the smell and the sound of a plastic. Yes, most cats are mischievous in nature, but they are one of the sweetest at times, the way they purred and wrapped their bodies around you or jump in your shoulders, the way they cries when they are hungry or had been banned inside the house for littering and soiling the rugs is priceless.
Gildong: Please let me in… I promised not to pee and litter inside the house anymore…
Let's meet our little fluffy friends and know the memorable moments that bring smile to our faces and create steam in the top of our heads at times?
They knew it is feeding time the moment they heard the sound of their dishes, give them food because if not suffer the consequences…
The older male cat in our house was named Dongsu from the Korean drama series Baek Dongsu, my sister and I rescued him from being trapped on top of the tree. We are busy fetching water when we heard a cat crying, it was scary at first because you can hear a cat crying but you can't find where it is coming from. #ghost
Dongsu is a very silent cat who loves to sleep, take selfies with me and pee anywhere inside our house in my mother's disgust and horror. He also loves to play and catch birds that's why he always volunteer to look after the grains, and after the young kittens.
Dongsu: Ikkk, I thought this is a look up pose or was it Walking Dead Pose?
Monina a female black cat from the town market; she is a street cat who's used to fighting with other cats for the sake of food. She is very competitive despite her inborn twisted left foot; she is a mischievous as well because of her background, she teaches the younger cats to steal food from our fridge, and to climb in our kitchen sink.
What's funny about her when you caught her stealing food, she will immediately run and dock her head down as if she was hiding from you. We have to put collars on her so our neighbors will know that she is a domestic cat and not a devil cat like how most people presumed when seeing a black cat around.
.
Monina is currently nursing five little kittens, four of them are male making the last one female.
Sanghwa is a calico kitten my mother and sister found in the middle of a busy street, they stopped to pick her and called out at the nearest house to inform that their kitten went outside and might be accidentally hit by vehicles, but the moment my mother put down the little cat in the ground, she runs back towards them so the owner just gave her to them.
Sanghwa, is a very sweet and loving kitty, she loves to fish out ice water in the tub, to clean herself and every kitty around her. She loves eating, she loves to chew food and to eat alone without another cat bothering her, she can eat boiled plantain banana and boiled sweet potato and she can even eat grass.
Jinja and Patpat were abandon in the street, going to town we saw them walking on the road side, but going home they were already in the middle of the road, so we stopped and the moment I went down the motorcycle to check on them they run towards me like they were happy that "mommy" is coming.
The more they get old the more they become playful and naughty;
Jinja loves to sleep in my foot at night, stole the food in our fridge, rubbed his head/body in our legs, he loves to follow everyone without his knowing that he can us make trip in the ground. When you look outside the window and he is around, he will quickly climb and cry blocking your view.
Compare to Jinja's mischievous behavior Patpat is a bit timid, but cries out loud, he loves to catch bugs and spider in the house and climb on trees which make me wonder sometimes if he is indeed a cat or bird. Patpat has the habit of turning our garbage can upside and down, chewing and eating the plastics, he also loves being petted by our duck and he loves doing yoga too, he is a healthy buff kitty if you may ask me.
Okneo, is Monina's only surviving adult kitty, she is the youngest and the frailest but she survived alone after one of her siblings died from being a victim of a hit and run, and the others went sick after catching colds.Her right eye is blind and the left eye is crossed-eye but her nose works well especially on finding food and petting the younger kittens.
Gildong, Jeong Woo and Rueh are three of the four white kitties we save from being abandoned. When scabies and mange became rampant among the dogs around the neighborhood, we found some of our cats having them as well since they love to play and roll outside. I treated them, they stopped itching, but then they get itchy again, it turns out I put too much salt on their food, I was told it wasn't healthy because they are too young so right now I cooked their food bluntly, it was just too sad Jeo Wook wasn't able to live long.
Do you love "Taking selfies with your fluffly friends? Which OPPO #SelfieExpert smartphone produces the best selfies?"
They are all lovable aren't they? I love taking selfies and playing goofy with them, but of course most of the time the photo quality isn't good because my kitties tend to move a lot making hard for the camera to focus on us and my phone camera failed to capture the right angle.
Getting the right angle and capturing a clear selfie photo is most pet owners wanted. Hear yeah! OPPO introduces a fantastic smartphone that produces the best selfies in the market today, it was no other than the OPPO F3 #SelfieExpert sporting a 13mp rear camera and dual front camera (16mp primary + 8mp secondary) with the touch-focus and face detection for clearer and better selfies. Finding the right angle was never been easier, but with OPPO F3 the hassle of getting a perfect shot is less of your worry. What is best about the secondary camera is, it is designed for wide-angle selfies, if you have a lot of fluffy friends you can be in one selfie photo together without the hassle of grouping them together.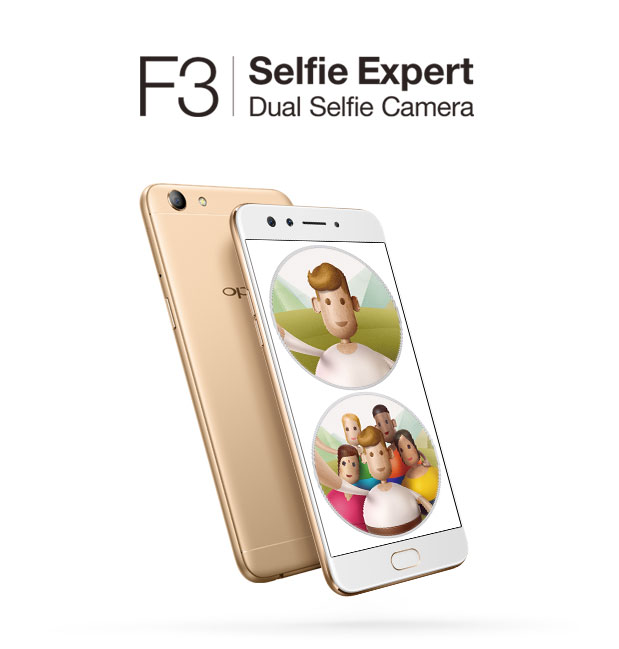 OPPO F3 is packed with special features like Geo-tagging, HDR, and panorama to make your photos more remarkable and memorable. It is also equipped with an internal storage of 64 gigabytes with 4 gigabytes RAM, which means you can take a lot of selfies with your fluffy friends and store a lot of photos of them without the hassle of lagging and hanging, if this space isn't enough you can expand your memory up to 128G micro SD card. This phone has also a remarkable long battery life (3200mAh) where you can take a lot of selfies and photos without worrying about your battery level.
Are you now getting excited to own OPPO F3? Read more details about this phone at www.oppo.com/ph/smartphone-f3
A few months ago when my younger sister went to see one of the management for the volleyball tournament in our barangay which is a distant relative to confirm when will be their next game and when she went home she has three white kittens in a plastic basket.
It turns while she was asking confirming for the game schedule she saw the kittens playing and blurted out that they are cute and that's where she was told if she want them because they will throw them in a few days and since we are looking for a white kitten to the extinct that we run after the homeless white cats in the public market my sister took them home without hesitation.
When my mother saw the kitties as usual she complained for having too many cats already at home, we already have ten cats and now there is another three but when I bathed them she was the first one who babies them.   My sister says that they are all four white kitties but the fourth one hid under the chairs and they can't catch it so she was told to take it next time.
After a few days my sister return to their house to get the fourth kitten, contrary what she had told us that the last kitty was small and isn't cute at all. The fourth kitty is a biggest, the chubbiest one and the cutest of them all because of his blue eyes and I named him Rueh.
Meet Taejo, he is my new adopted homeless kitty.  My sister and I found him in our grandmother's backyard crying and looking towards our home, I guess he knew that we have many cats.
It was a few nights ago when we started hearing a kitten crying  and since there are several cats that stays in the church we just thought the mother cat brought her kittens there, I have managed to see the kitty in the church rooftop when I went upstairs our house to hang clothes and whenever I called him, the kitty responded meowing and there are times I saw our older male cat visiting the kitten.
One night, we heard the kitty cries quite loud pertaining he is quite near so my sister and I went out to see where the cries coming from and that's where we found the kitty I named Taejo in our grandmother's yard.  It was a good thing Taejo is a male kitten because if he was a female my mother will not like it since we already have many cats at home.
Taejo is such a cutie with big round eyes, he cries a lot whenever he is hungry and he loves to be bath.  His color is like our young male cat "Suhee",  so we suspect they have the same father. It took only less than a day for the cats to like him, they accept him as their younger brother right away.
Every morning when we wake up our kittens were already waiting behind our main door so when we opened it they will excitedly run inside our house to play and asked for food. Today, there is something different one kitten (Taekwoon) is missing and we can't found him everywhere, we search here and there but he isn't around. It is peculiar because it is not his norms to be not around in the morning.
My sister search around and asked neighbors were one of them says that they found a dead cat which looks like a mother cat that was been a victim of hit and run just about an hour ago, were told that they throw it in the irrigation canal.  I have asked the kid who found the dead cat what does it looks like and show here a photo of Taekwoon in my phone and her answer is positive, it was the dead cat she found in their yard. It turns out at night Taekwoon loves to run across the street and after reaching the other end he will run back home.
Taekwoon (May 28, 2016 – December 02, 2016)
Sad, my sister went searching along the irrigation canal and when she returned it was indeed Taekwoon, cold and wet.  It was very painful to see the sweet, chubby and playful Taekwoon in such condition, it was just last night when I cuddle and feed him, it was just last night when he cried into my ears but now he is gone.
Taekwoon was born on May 28, 2016 as the eldest of Monina's four kitties. His feature is very distinguish because of his long ears, red nose and chinky eyes, when he was younger he looks like a rat than a cat. Surely our cutie Taekwoon will be forever be missed, our chinky eyes kitty will be always in our heart. In heaven, your playground will be more wider with no cars, bikes to fear around.
It was been a while since I updated this blog, starting today I will try to update more often and post something new or what is happening around our pets.
We have been adopting abandon kitten from the streets but they don't live that long maybe because they were too young when we found them or they're been out for a long time since we found them and when they're mixed with each other they got each other disease since they ate and drink together.
Anyway, it was been a month since we found and adopted these three kittens in the middle of the street. We saw them when we are going to town walking at the side of the street and when we returned home from town they were all in the middle lying down. We stopped for a moment, we've all agreed not to pick new kittens anymore but when the kitten cries and follows me when I went down our motorbike I took all of them home.
Our cats at home were not happy with the new kittens, they don't get a long on the first day. They either run or fight with the kitties but as the day goes by they learn to accept and adapt with each other, we named the three kittens according to their behavior or likes.
We name one of them as Jinja from our dog's name Jinjoo. Jinja wasn't afraid of our dog contrary to two other kitties, he actually sleep with her and suck milk from Jinjoo making him her puppy.  I think they are still nursing to their mother cat when they were thrown in the street by their previous owner.
The second was named Patpat from our duck's name Patutinay, unliked Jinja, Patpat found motherly love with our duck, he plays and hugged with her.
We named the third kitty as Jinjii, he is the frailest and smallest of the three. He is always left alone by Jinja and Patpat, Jinjii found motherly love in one of our older kittens.
There is a new member in our family; it is female cat that I temporarily called "Sam or Sammie" short for "Sampot" a local dialect for someone who just came by without noticed. I have first saw her one night I am washing the pet dishes, I have heard a cat crying and when I've asked my mother about it she pointed out it was our orange kitten. It was a bit raining that night, then suddenly someone flash a light into me which surprised me so I shout out of fear, it was our younger cousin picking red pepper at night and when he came nearby I have asked for his light so we could check the corner where I have heard  a cat crying and there we found "Sammie" who's a bit soak in the rain, I gave her food and  she disappeared the next morning and then showed up again the next night and then she started staying in our house even during the day.
One day she is out of sight after hearing a cat-fight the previous night, she didn't came home for a day and the next morning I woke up I have heard a cat crying near the irrigation canal and when I look around I found "Sammie" in top of the acacia tree so I called her and she went down before I can find a post to poke her down. Since then she's been in our home for almost a few weeks, she was a bit sick with colds maybe because from being homeless from unknown period.
Sammie has a color resemblance to "Dongsu" the cat we rescued from the tree and her tail was also the same with Dongsu's sister, we are thinking they are related; they are either siblings or have mother and son relationship.
Jihoo our dog is on leash since she was a puppy, we did it for her own safety because our house is near the busy road where there are a lot of vehicles going in and out from our barangay, we are scared that she might get hit since most of the neighborhood dogs stays in the street. Even she is on leash she isn't safe from ticks and fleas since when I let her loose during her nature call she will immediately run to the neighborhood dogs.  Lately she is feeling irritated and scratched her skin a lot and loses a bit of hair, at first we thought she is changing her hair like what happened when she is growing up but little did we know it was worse than just losing hair.
I bathed our dog regularly and removed her fleas and tick but when I used a new shampoo that I didn't use to her before she started losing more hair and she started scratching even more, her skin became drier, it was like she is suffering from dry scalp and dandruff. So when we went to a drug store and we found out that they are selling soap and shampoo for dogs I didn't think twice and bought Permethrin Shieldgard dog soap, the soap is cheaper than the shampoos.
Permethrin Shieldgard dog soap is anti-parasitic it kills and controls fleas, ticks and lice. It also washes away dirt and grime and it is cheap for ₱77 for two pieces as they were on buy one take one sale.  Since I use the soap when bathing Jihoo she don't scratch anymore and no more ticks and fleas on her skin, she smells clean and fresh too although her hair isn't back to normal yet but the good thing it wasn't dry like before,  there isn't dandruff anymore.
Directions for Use:
Place dog on elevated surface during bathing to prevent unnecessary movements
Wet dog thoroughly. Avoid water in ears.
Soap dog all over. Especially in-between toes and armpits. Avoid eyes.
Let lather stay 5-10 minutes (depending) on severity of infestation.
Rinse thoroughly. Avoid eyes.
Quickly dry dog with towel.
According to the caution indicated in the box Permethrin Shieldgard dog soap is for dogs only and not to be used to food, other pets or humans and should be avoided to be use on convalescing dogs, nursing bitches or puppies less than 12 weeks old.
Kittens are indeed cute and adorable, I was busy preparing the moringa leaves that we are going to mixed with the pork ginger soup when my sister call me from the outside, she is saying something about "Jiyong", our orange kitten which annoys me thinking why I have to be called when she's there to look after the kitten.
It turns out the kitten climb into the drift wood and made some faces while enjoying the sunlight and my sister is asking me to take some photos of Jiyong. We put the kitten on leash because she is having a diarrhea and it is quite dirty to let the kitten inside our house in her state. It has been a few days since I put the kitten near the grassy field every morning so she could eat some grass to cure her stomach problem. Well it was just my observation that our older cats eat some grass and then throw up  afterwards, I have read somewhere that cat eat grass to cure their stomach ache and eating grass can help to  clear their stomach of fur, feathers, parasites or bones, which can irritate the digestive tract or even cause more lasting illness. I have noticed since a few days ago our kitten's poop improved a bit unlike before that her poop just leak anywhere and anytime.